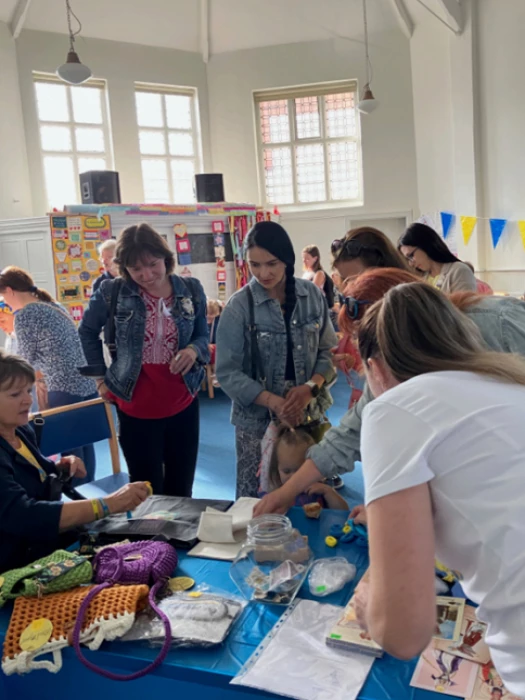 Uniting Church on Garden Lane has long established relationships in the Garden Quarter community of Chester, in particular with a range of arts-based initiatives developed by and for local residents. 'Plum' emerged during the pandemic with a commitment to build-on those partnerships so that church and community could secure an inclusive meeting place in a diverse neighbourhood.
Since 2020, 'Plum' have:
> engaged with denominational leaders about potential for 'Plum' to formally share governance roles and responsibilities
> formed a relationship with Chester City of Sanctuary
> given the building a 'face-lift', decorating inside and out. In 2023, solar panels were fitted to the south face of the roof and a 'sun' installation was fixed to the exterior as a celebration of the community contribution to Chester Mystery Play, 2023.
> developed community worship through the celebration of festivals which have engaged the wider community at Harvest, Christmas and for Remembering.
> responded to the needs of Ukrainian neighbours, providing bikes, summer picnics and hosting celebrations for St Nicholas and Ukrainian Independence Day.
> initiated arts activities to include:
> 'Tutti' – performing arts workshops for 5-14 year old UK and Ukrainian children
> 'Art in the Attic' – a series of visual art workshops for 5-14 year old Ukrainian children
> physical theatre engagement with Storyhouse and Gecko Theatre to enable adult asylum seekers to share their stories.
When Ukrainian families celebrated Independence Day this year, they set up stalls and sold items of bric-a-brac and craft. With additional cash donations, £500 was raised which went straight out to Ukraine to purchase first aid equipment for the front line. The gathering was such a wonderful occasion, supported by neighbours: Mike Rawski, a Trustee of Uniting Church said – "It was such an amazing afternoon, I can't stop thinking about these incredible people. It was a privilege to be part of their special day."
During six weeks of the school holidays, there have been 'Art in the Attic' sessions for Ukrainian children organised by local artist, Maria Lancashire. Under Maria's guidance, the children produced some wonderful pieces of art work, the culmination of which was an exhibition in the church during September to which people from the church and community will be invited. Simultaneously, as part of their community engagement, when Gecko Theatre staged a production of 'Kin' at Storyhouse, the company worked with sanctuary seekers in Chester. Also during the summer, part of the set from the Mystery Plays 'settled' on the Plum Terrace face of Uniting Church. The 'Sun' replaces the star as a celebration of the many contributions made by local people to the Chester Mystery Plays. As such, Uniting Church will feature as part of Chester Contemporary Fringe festival which runs between September – December 2023.
With the sun shining on Sunday afternoon in October, the church was open from 4:00pm for a splendid Harvest Tea put on by members of the church, followed by a community service of Harvest Thanksgiving. 23 people of varying ages were welcomed to the celebration, including two local families with young children. At 5:30pm without any formal announcement Matt Baker, neighbour and a 'Plum' activist struck up a medley of traditional harvest hymns on the church organ and we joined in with the singing. Our Minister, the Revd Ceri Gardner then gave a short formal welcome and explanation of what was then to happen and we sang the first verse of Fred Pratt Green's Hymn, 'God is here! As We His People Meet To Offer Prayer And Praise' and in response to each verse, appropriate items were brought to a central table and finally, with prayer, offerings of produce were added by the congregation to be shared between the charities Save the Family and West Cheshire Foodbank.
Now we look forward to 2024, with conversations around greater sharing between church and community; how the pattern of worship can be adjusted to become more inclusive and how we build on the creative arts activities which prove so effective in crossing boundaries of language and culture.
Alan Johnson: Uniting Church Steward and Revd Christine M Jones BEM