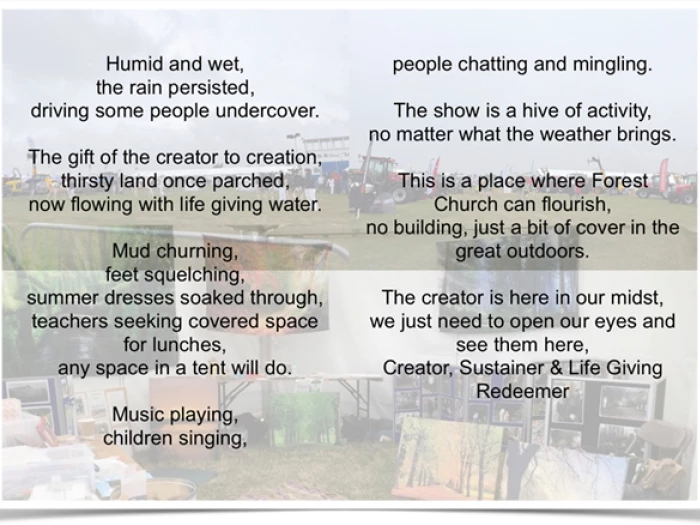 The Church at the Show
The Cheshire County Show was as busy as usual. A great hive of activity, even if it was a little damp. Thankfully it didn't put people off attending, though the downpours did drive people under cover. This however, turned into a blessing as it meant there were times when you couldn't move in the church tent, especially when teachers were searching for space undercover for their classes to have lunch.
This gave us a great opportunity. On the first day alone, we gave over 200 resource packs of activities and reflections to explore a little of what Forest Church can be. We probably wouldn't have had that opportunity if it didn't keep raining.
It was fantastic to have other people come in to see what it is all about as well.
It was a wonderful couple of days. Making new friends and expanding our web of contacts across Cheshire. Plenty of conversations with the other Forest Church leaders showed just how diverse Forest Church can be.
One group specialises in writing poems, another of the other groups specialises in children's work.
We could feel the spirit moving among us through some great conversations, encouragement, and support for what we are doing to further Christ's mission in a different way.
Revd Jo Brown, North Cheshire Circuit