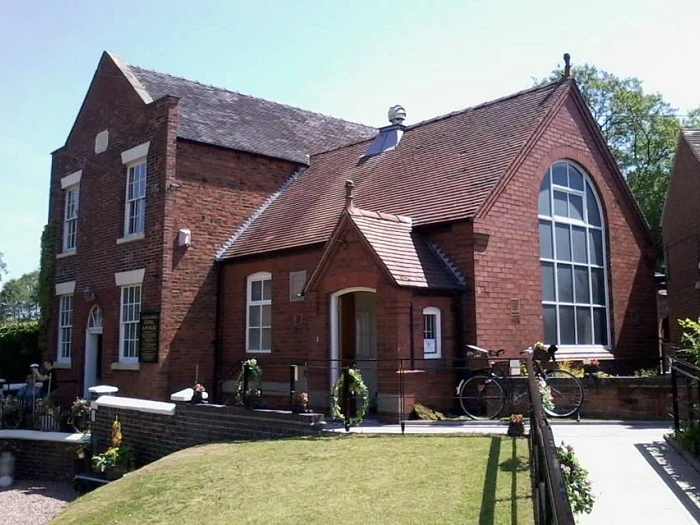 Banner of Hope Activity Day
The first major on-site event at Englesea Brook Chapel and Museum of Primitive Methodism since lockdown was held on Saturday 14 August. Entitled 'Banner of Hope', the inspiration for the day came from our extensive and beautiful collection of banners and the sense of belonging and hope that they were designed to engender in those who walked beneath them.
The day was open to all ages with lots of banner-making techniques to try such as junk and natural foraged materials, felt and fabric scraps, and block-printing using fruit and vegetables, Legobricks and the letters from our own historic Atlas printing press which was originally used by the Primitive Methodists to publish tracts, pamphlets and books.
A very popular technique to try was Sharpie permanent marker pens on silk: patterns and shapes were transformed by the addition of hand-sanitizer! Normally, rubbing alcohol would be applied to create gorgeous effects, but as we are a Methodist place of worship alcohol is disallowed on the premises. However, alcohol-based sanitizer has become essential in our protection against Covid-19 and is commonplace in chapels everywhere. Using sanitizer to create objects of beauty was a poignant reminder of the difficult months we have all faced.
New skills were acquired by some of our visitors as they tried their hand for the first time at cross-stitch, creating slogans of hope on small pieces of aida which could then be sewn to material to take home or onto fabric jigsaw shapes. These shapes were also backdrops to the other techniques on offer and once gathered together will be used to create our 'mega-make', or community banner, to express our collective hope for the future as we emerge from the pandemic.
Sewing the slogans in the peace and tranquility of the chapel allowed time for reflection and conversation around the issues that have affected us – the very bedrock of the movement known as 'craftivism', which is a form of slow activism to make positive change. The Primitive Methodist church was activist in its outlook, always seeking to improve the lives of those who were often denied a voice.
There was also an opportunity for visitors to take a tour of the museum and Collections Store to view the banners that carried the messages of hope, opportunity and faith before those from past Sunday schools, friendly and temperance societies, and needlework samplers sewn in response to the grief and trauma of war. To sustain our creative visitors and the wonderful volunteers who staffed the day, there was tea and home-made cake!
The completed 'Banner of Hope', made up of the myriad jigsaw pieces will be on display at the museum as part of the 250th anniversary celebrations of the birth of one of Primitive Methodism's founders, Hugh Bourne, in 2022.
Elizabeth Morris
Learning Officer, Englesea Brook Museum
learning@engleseabrook.org.uk