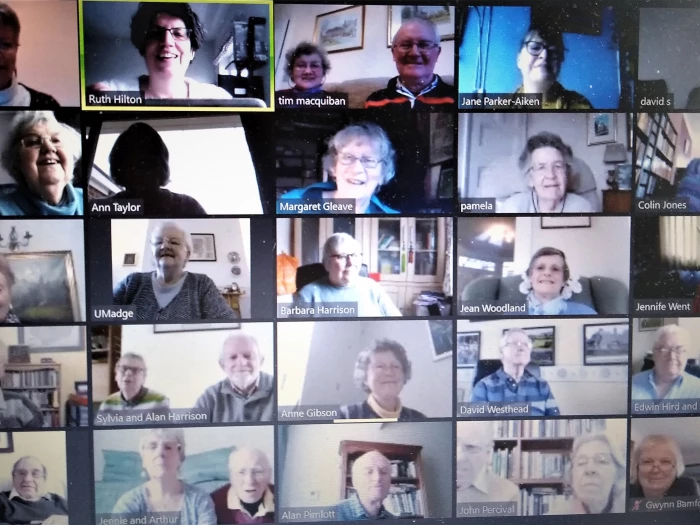 Like many places, there was a definite air of panic when, with a diary full of group and school visits, including a growing number of organised Methodist tours from the United States, and a full programme of monthly heritage talks and heritage services organised, we closed the doors of Englesea Brook Chapel and Museum indefinitely.
As both a museum and a mission project, how could we exist as either without a building? It's all well and good to say that the church is the people, not the building, but to tell the story of Primitive Methodism – and the contemporary relevance it has today – we relied heavily on our artefacts and our face-to-face encounters. Very quickly, we had to think on our feet and adapt.
Despite none of the staff claiming much technical ability, we discovered Zoom for staff meetings – and how we marvelled at technology enabling us to 'see' each other (once we'd discovered how to turn our cameras on and unmute ourselves!). Would this work, we wondered, for a larger group?
Our real concern in those early days was the welfare of those staff and volunteers who we knew were alone and isolated.
Our first tentative step was on Maundy Thursday, when we held a simple act of worship. Unsure who would come, we were thrilled when 16 people turned up.
Emboldened, we wondered if it would work for our programme of speakers. On 2 May 2020, Tim, the research officer, agreed to trial it with a talk on the Prims and Temperance. We advertised it on our facebook page, the website and emailed whoever we thought might be interested, including the Connexional Heritage committee. When 30 people appeared – our first experience of more than one page of screens – we realised that not only were we attracting more people than we ever did onto site, but we were also able to draw people in from beyond the geographical confines of Cheshire and Staffordshire. We regularly have participants from all over the British Isles, and even had a speaker during Black History Month from the Methodist Church in Nigeria.
And don't tell me that older people can't work technology – people in their 70s and 80s joined us. We were meeting the emotional, spiritual and intellectual needs of people from all over the Connexion, which drove people to overcome their fear – or ambivalence – towards technology.
These early successes spurred us on still further, and we increased our heritage talks from once a month, to once a fortnight. Furthermore, we extended our season beyond our normal October closure into November, resuming talks again in January. Our Soup and Study sessions for Lent and Advent also went onto Zoom and have been a phenomenal success with over 80 participants each week during Lent. In all, we have had over 2000 people come along to our zoom events in the last twelve months.
This success has not translated into a financially lucrative business venture for us. Englesea Brook has always offered its heritage events Free of Charge, but inviting donations to the work of Englesea Brook on Zoom we've found increasingly hard to do. However, at the Soup and Study events, rather than charging for the soup lunch, we usually invite donations to a charity. At Advent we raised over £400 for the Banyan Tree charity, at Lent, a staggering £1,250 was raised for All We Can. The value to us has not necessarily been financial, but the increased connections we have made with people who have previously never engaged with the work of Englesea Brook and who are now committed to visiting us when we finally reopen our (actual) doors.
Why should your organisation or church consider Zoom events?
It widens the scope of potential speakers/preachers – to all those we couldn't consider previously because they weren't close enough to ask to travel for a one-hour talk!
Zoom reaches beyond the physical limitations of our buildings – we would never have squeezed 80 people into the cottage parlour!
It enables our work and message to reach and attract new audiences – for example, the Black History Month talk by the Methodist Bishop from Nigeria was advertised to and attracted participants from Nigerian Methodist congregations in the UK.
Its meeting a need – those needing stimulation and fellowship
It's cheap to put on! Once Englesea Brook paid for a Zoom account, it's free for all the participants to join our events.
Will it continue?

Yes, if we can make the Wi-Fi work in Englesea Brook!
There's still work to do to develop our 'museum without walls' but to have more than doubled the usual numbers to our heritage events, do we want to just 'return to normal'?
Ruth Hilton, Project Director – March 2021